This unique art piece is from my "Trellis Necklace" series. I developed this beadwork pattern to resemble a latticed garden trellis that has vines trained over it. Flexible yet firm, the framework serves as a support for five roses sculpted from vintage 1980s fine garment-quality lambskin suede.
The dress from which it was salvaged was *hideous* but very high-end, and the suede from its bodice is "like butter." The suede had faded irregularly from having been displayed in a sunlit boutique window. I took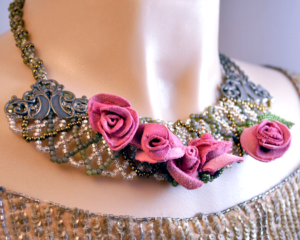 advantage of that in cutting the petals and in their placement, in order to give the roses that much more dimension and realistic appearance. Each of the suede roses is set in its own beaded calyx, which serves to secure the roses to the trellis, and to preserve their shape.
Other materials in this necklace are vintage brass findings from the Rhode Island jewelry industry (late 18th century-1970): ornamental stampings made from the same molds used since Victorian times; chain; and signed clasp (marked Trifari), all of which I had antique-bronze plated to protect the raw metal.
You can see another necklace from my Trellis series, here on this blog. If you would like to purchase the suede roses necklace, it is listed on Etsy here.