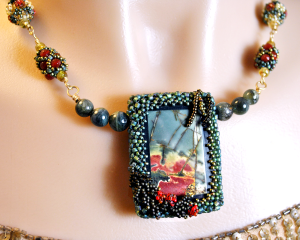 This is a naturally-occurring scenic stone only recently discovered, c 2005. Known by various trade names — Cherry Creek Jasper; Red Creek or Red River Jasper; Multi Colored Picasso Jasper — it actually is not a true Jasper at all; it is both softer and less tough. But the top-grade material (like this one) is close-grained enough to take a high-shine polish. What makes it extraordinary is its range of color, unprecedented among the world's scenic stones.
Lore has it that it was stumbled upon by workers mining turquoise nearby. It is likely that Cherry Creek shares some of the same agents which give turquoise its color — prominently, copper and limonite (an iron ore). Veins of gleaming hematite (earth's other principle iron ore) can be seen in some specimens of Cherry Creek.
What drew me to design a necklace around this one is its scene: like woodland poppies growing amidst brambles at the edge of a glade.