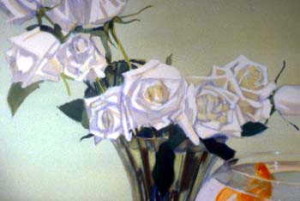 This series was inspired by a failure — my own. In the mid 1990s, after I hadn't been painting for some time, one morning I realized it was my friend Jen's birthday and, as she was also a painter and one who had admired paintings of mine, thought I would make her a small gouache sketch of a bouquet of fresh roses I happened to have on hand.
Hours later, I was so disgusted discouraged depressed by the results, my head filled with imprecations like 'why did I ever think I could paint' and 'how did I ever get into an art school?' and worse.  But, having nothing else to give Jen, I handed it over, muttering excuses.
She was thrilled; she exclaimed, "Why, but this is beautiful!!! I LOVE tulips!!!"
But just as the implications of that sank in, suddenly another voice in my head — from memory — piped up. It was that of my drawing instructor at BU, as we were about to take up figure drawing. He said, "Just plan on throwing the first 500 away."
So instead of giving up painting forever, I set about painting 500 paintings of roses.