This is the final necklace in the series, and shares elements of the others. It has the same focal as the second; a riot of Tourmaline gemstones; and what's become a hallmark of a lot of my recent work – asymmetry, and the juxtaposition of formal with naturalistic qualities.
The teardrop pendant is Lodolite, or Inclusion Quartz. Along with Rutilated Quartz, Lodolite is among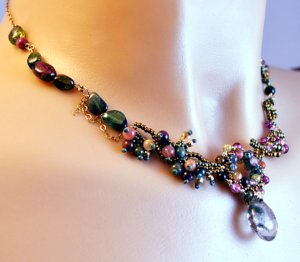 the rare gemstones prized because of its inclusions. Here, there are drifts of green Chlorite that are a bit like shafts of light in a forest, with a patch of earth-brown at the back, which adds to its illusion of depth.
This piece is currently listed on Etsy, here.