All Tourmaline all the time lol: I love Tourmaline! For the fourth necklace in my "Into the Woods" series inspired by Sondheim's music and imagery from the film, I returned to asymmetry (so flattering; just ask Tim Gunn).
On the left is the by-now signature ruffled branching (it's actually a very loose spiral). On the right is a "shout-out" to another longstanding obsession/influence of mine: the life work of William Morris. (He'll have to have a whole category here on Yesterday Gets Better.) Here, the nod is the floral motif with three stylized flowers, leaves and a vine running through (so William Morris!). The flower at the center has the rose-red (Rubellite) Tourmaline; the smaller flowers flanking it have lighter pink Tourmaline.
The center construction is dimensional — it's a lacy dome, half an inch high, woven entirely of various cuts of Tourmaline, with 14K GF accents as a crown.
Another detail I love in this piece are the matched sets of Tourmaline crystals that serve as stations.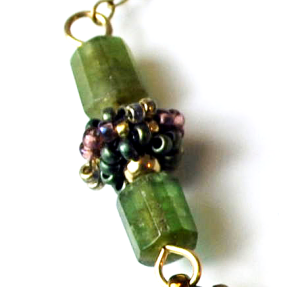 Tourmaline has a prismatic acicular crystal habit. Acicular comes from the Latin for "little needles". When seen in Tourmalinated Quartz, they are fine indeed, but here, they are a rare large size, with good clarity. And the color is of new spring leaves. Plenty of stone suppliers sell these as faceted, but no, Tourmaline forms this way naturally. There is debate (and rather silly it is, too) about the crystal system into which Tourmaline belongs. You can see the crystal is six-sided (hexagonal) but the crystals frequently terminate in a pyramidal (three-sided) point,, and some Tourmaline crystals are three-sided. Clearly, the trigonal system is a sub-system of the hexagonal, but there is actually controversy about this ¯\_(ツ)_/¯